Local Restaurants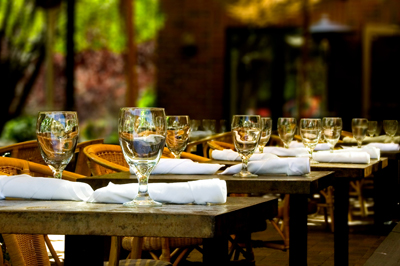 The following restaurants are within 15 miles of Whale Watch Inn. Innkeepers will be happy to share their personal recommendations with you as well as make reservations and give directions. Menus are available to assist you in making your selections. These restaurants accept credit cards and will accept personal checks unless noted. All restaurants are non-smoking.
Anchor Bay
Mariachi's (707) 884-1735: Mexican cuisine, beer and wine. Meals are delicious and moderately priced. Visa and Discover cards accepted. Open: 11:00 – 8:00 p.m. Closed Thursdays.

Gualala
(Five miles South on Highway One)
Cove Azul (formerly Cypress Bar & Grill) (707) 884-1835: Continental cuisine. Overlooks downtown Gualala and ocean. Full service bar with micro beer on tap. Moderately priced. Visa, M/C, & Discover. Lunch: 11:00 – 3:00 p.m. Dinner: 4:30 – 8:30 p.m. (or 9:00 p.m. depending on business volume). Open daily. We've received rave reviews on this restaurant from our Whale Watch Inn guests!
St. Orres (707) 884-3335: Early reservations recommended. Specializing in wild game. North coast landmark. Elegant and romantic. Extensive wine list. Expensive. Visa & M/C.
Top of the Cliff (707) 884-1539: Continental cuisine, seafood specialties. Ocean view. Full bar. Reservations recommended. Moderate to expensive. Visa & M/C. Lunch: 11:30 – 2:00 p.m. Thursday – Sunday. Dinner: 5:30 – 9:00 p.m. Thursday – Sunday.
Upper Crust Pizzeria (707) 884-1324 – Pizza…of course. No credit cards.
Point Arena
(10 Miles North on Highway One)
Pizza's & Cream (707) 882-1900: Pizza – the best…anywhere! Beer, wine, and sodas. Ocean view. Indoor and outdoor seating. Charming tapas bar serving beer, wine, and sake. Visa, M/C & ATM.
Pier Chowder House & Tap Room (707) 882-3400: Clam Chowder, Local Sea Food & 30 beers on tap. Located at the Cove. Credit cards are accepted.
Sea Ranch
(Fifteen miles south on Highway One)
Sea Ranch Lodge (707) 785-2371: Continental cuisine. Nice atmosphere. Ocean view. Full bar and select wines. Expensive. Visa, M/C & AE. Open daily for lunch and dinner.
Additional Restaurants
These restaurants are north of our inn:
Harbor House Inn at Elk (707) 877-3203: Located about 30 miles north from our inn. Early reservation required. Distinctive California cuisine prepared fresh daily. Prix fix 4-course gourmet dinner. Only one seating at 7:00 p.m. $45.00 per person, plus wine. All tables have breathtaking views of ocean and Greenwood Cove.
Albion River Inn at Albion (707) 937-1919: About a 45-minute drive from our inn. Reservations required. Open daily for dinner. Excellent reviews from our past guests. Romantic and elegant; ocean (or sunset) view!